Best Packing Services Toronto
Proffesional Packing Services | Personalized Packing Solutions
Getting stressed while planning the packing before you move? Relax; Power Moving is there, by you to cover! Our expert movers will happily do the packing, loading the truck, offloading, & unpacking with our full-service moving.
Are you getting overwhelmed during packing? Power Moving can stand by your side and guarantee you a 100% satisfactory packing & moving service. Our full-service packing services in Toronto are highly appreciated by our clients which makes us the No-1 movers & packers. Trust us for the high-quality packing services as our expert packers use only premium quality supplies during packing.

Call us at +1 647 385 8846 to book packing & moving now!
Why do you need our professional help?
Packing the belongings of your existing home or condo requires strong planning and strength. However, if you find it to be a stressful affair due to your work pressure or lack of experience, let us cover it for you!
The moment you call us at +1 647 385 8846 for packing services in Toronto, our expert moving team will reach your place. After a quick inspection, they'll create a floor plan for systematic packing before moving the belongings from your house or office.
Our professionally trained and highly experienced packers will start packing your books, electronics, expensive belongings, and glass products in separate boxes filled with packing peanuts to protect them.
We are expert in furniture moving
The expert movers at Power Moving are extra careful during packing the furniture. To retain the finishing and to protect them from scratches or any damage- they use moving blankets.
When needed, our movers wrap the furniture with bubble wraps to boost an extra layer of security along with using moving blankets, moving belts, and dolly to move the furniture.
During moving a piano, we also use this technique to ensure more safety while moving the expensive musical instrument.
Why Us?
Power Moving's packing services in Toronto have a signature specialty.
Our experienced packing team is highly expert in packing anything with great care.
Power Moving started the business in 2017
Get associated with a friendly, polite, & highly professional packing team.
We offer emergency packing & moving in Toronto.
Fully-sanitized workers, supplies, & 100% safety-guaranteed packing service after COVID-19.
An award-winning moving company.
We bring our eco-friendly supplies needed for the packing service.
Own moving truck used after impeccable packing.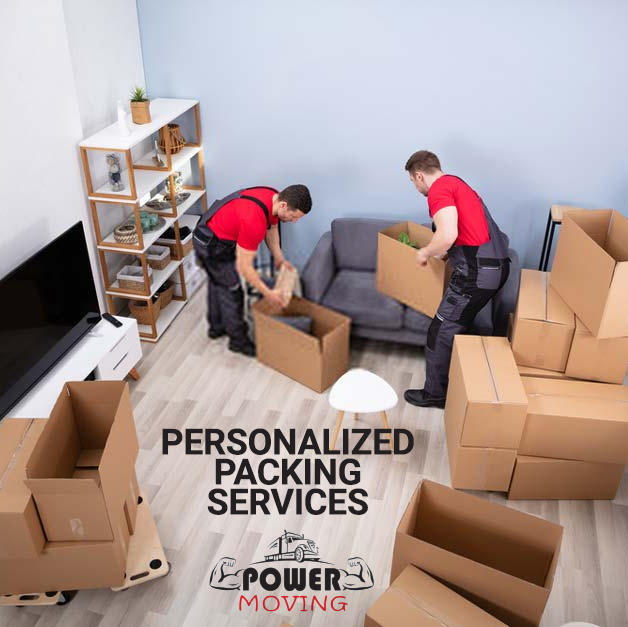 How does our Packing Services Toronto work?
Call us for a quick estimation
Fix an appointment
Our packing team will reach the given address
Enjoy a hassle-free packing
We are here for you to make the entire moving process easy and comfortable with our full-service moving. We will handle everything from packing to unpacking, loading to unloading, and more!
Move with Power Moving. Give us a call now at +1 647 385 8846!
Get FREE quotes from Professional Movers
CLICK BELOW TO READ OUR AMAZING REVIEWS
Testimonials
What our Customer Say
They are the best moving service provider I have ever met in my entire life. They are professional and kind. They got the job done faster, more cost-efficiently, and with greater customer satisfaction than any other moving company we've ever hired! Keep up the good job!
Long Distance Move
Moving & Storage services in Guelph
Great work ethic. It was a long move, 16 hours, Roger, Webster and Meshial were great, they were polite, friendly and helpful throughout the loading and unloading of the truck. James was also helpful on the administrative side with the booking and the lead-up to the move. I would gladly recommend Power Moving and specifically these three movers to anyone looking to move a three-bedroom house from one city to another.
I was looking for experienced movers who could help me in one move. I was at ease with this moving company the whole time and never felt like anything would go wrong. They handled everything very creatively and managed to do stuff safely and securely. The movers were efficient, on time, and professional. I recommend everyone to hire them and forget all the tensions of relocation. Happy client!
We hired Power Moving based on reviews and the fact that they were very flexible and communicative during the quoting process. I had the pleasure of communicating with James several times before our move via email and his response time to my many questions was super fast. We were sent 5 very capable movers and were moved out and into our new home in no time. The movers were courteous and on task the entire day. They took great care in disassembling, protecting, and reassembling all of our belongings, and there was zero damage to anything during our move. They moved our piano with great care, as well as a very heavy basketball net. They communicated with us the entire time and they demonstrated leadership and experience. I would definitely hire Power Moving again and will recommend them to friends.
Very reliable and the staff is pleasant, professional and easy to deal with. They operated in short time and the cargo was transported in great condition. I recommend their services without a second thought!
Power Moving provides tremendous service!!! The movers were polite, and professional and truly cared about our belongings and our new custom-built home! They took the time to wrap everything properly and made sure they took their time moving things into the new home! I would recommend this company to everyone!! The team was genuinely friendly, we laughed and joked and they made a stressful day seem like there was nothing to worry about!!! I give Power moving 5 stars!!!! Thanks again, guys!!!!